The ICC and Cage Cricket – A Partnership for Future Development
2015 was a good year for Cage Cricket. It was a year that that saw Cage Cricket, in partnership with a number of high profile charities and social organisations, deliver a range of significant projects across the UK with many going on to win awards and recognition.
That these awards came from an incredibly mixed set of organisations; including an ECB sponsored Diversity award for work with BME groups in South Wales, a Mentoring award for a project working with life-prisoners in the Midlands and a project running sessions in the Highlands of Scotland; did not appear to come as a total surprise to the Cage Cricket team, "The game has been specifically designed to use existing infrastructure wherever it's located; sports halls, youth clubs, tennis courts and the like, so with sports fields being sold off at a rate of knots and space to play at a premium, we always believed that it would only be a matter of time before Cage Cricket gained significant traction".
Further significant traction has arrived this year in the form of I.C.C Head of Global Development Tim Anderson stating that, "The success of Cage Cricket in the Netherlands, and the resulting ICC Development Award it received, suggests that the innovative nature of the game has potential in other ICC Associate and Affiliate members, particularly in cities where spaces is at a premium."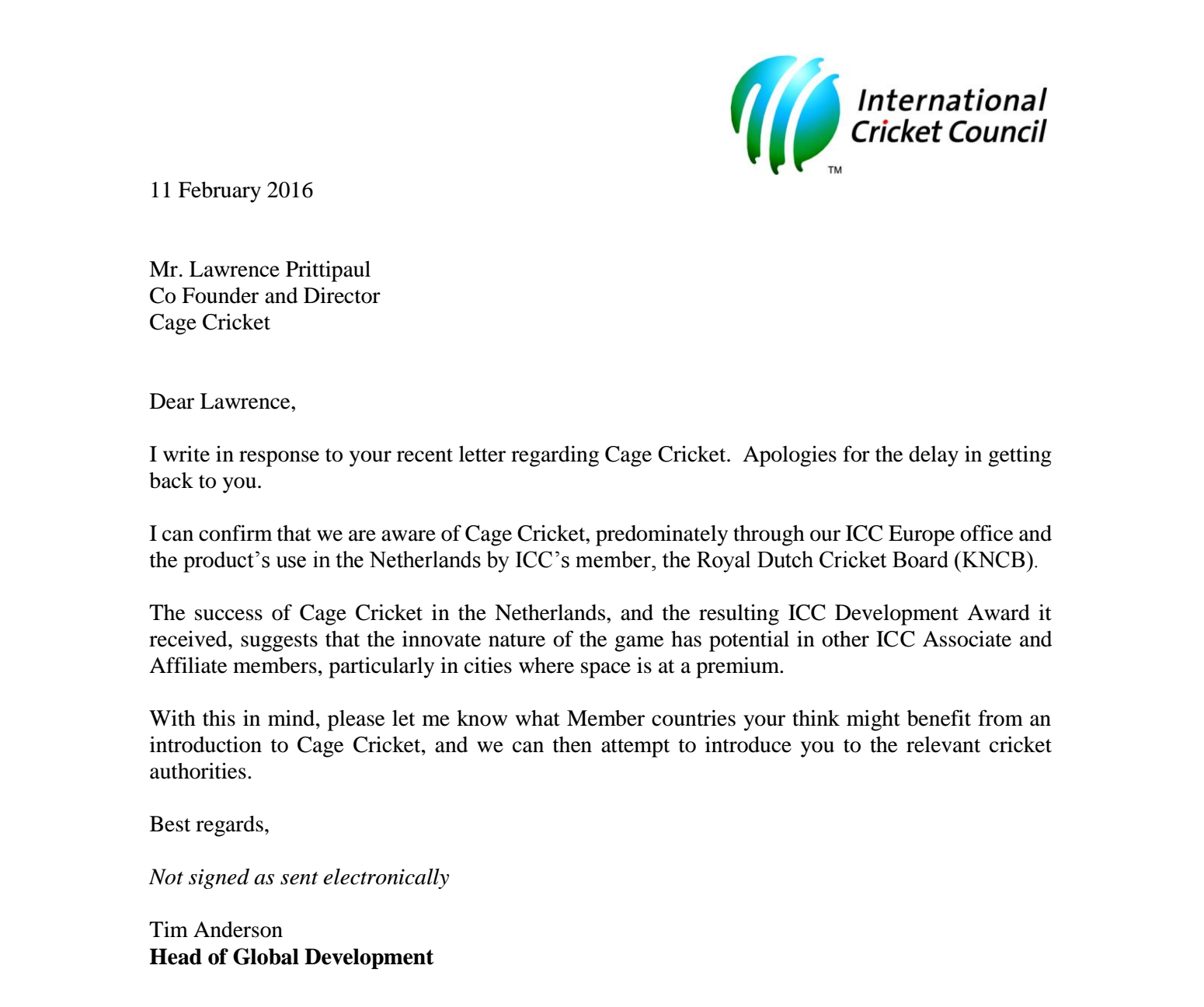 An exciting, vibrant version of the game that is cost effective to deliver and simple to learn, Cage Cricket has gained the backing of many high profile athletes and celebrities including cricket legends Shane Warne and Sir Ian Botham.  Both have been strong advocates of the need to develop more opportunities for young people to experience the benefit of playing cricket and see Cage Cricket as the perfect entry point.
Sir Ian is clear, "The great thing about Cage Cricket is that it only has thirteen rules.  It can be learnt quickly and be played almost anywhere that there's a confined space. We even once played a quick game with (London Mayor) Boris Johnson in his office and used an orange as a ball. With schools selling off playing fields, an ever growing obesity problem and shrinking participation in the parent game, I think now is the time to get behind such an innovative project and let's get more young people playing."