South African Professional Loves Cage Cricket
Godfrey Stevens, professional cricketer with Boland in South Africa,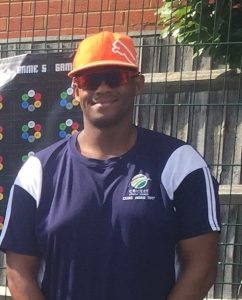 is again playing and coaching at Epsom CC for the summer.  Alongside playing 1st Class Cricket at home, Godfrey is establishing a sports academy aimed at providing opportunities and improving life chances for young people in his local area.
Having heard a bit about Cage Cricket whilst in Epsom Godfrey was keen to see what it was all about.  Therefore, on 10 July he came along to a couple of sessions.  At the Longmead Centre in Epsom, Godfrey witnessed the Over 50's session and then gave a quick batting masterclass.  From there, it was on to Coombe Girls School where the players were very excited to meet a professional player.
Godfrey was very impressed with both sessions and said of Cage Cricket "I would really like to take this to the young people at my Academy. I like the way it is simple and keeps everyone involved".